Rick, N6IET Takes to the Island
Once again member Rick (N6IET) of southern California will take to the air-waives on what has become his annual Santa Cruz Island adventure.  Many of you know that last year Rick ran into some issues with his AlphaLoop due to some loop spacing issues. However, that has all been worked out and Rick is ready to tackle the job once again.
Catch Rick on-the-air with his tentative operating schedule below. Be sure to report into the W6SFM when and where you hear Rick on-air.  Good luck, and good DX Rick!
Friday, August 16
6:00 to 6:30 am on 3558 kHz general QSOs
6:30 to 7:00 am on 3558 kHz Bob Net (using straight key)
8:30 to 9:00 am on 7034 kHz general QSOs
9:00 to 9:30 am on 7034 kHz PARG Net
9:00pm-9:30pm N7HRK/s QRQ Roundtable on 7046 kHz
Saturday, August 17
6:00am-7:30am QSOs on or near 7046 kHz
9:00am-9:45am WSN (Western States) QRP net on 7032 kHz
10:00am-10:45am 30 meter QSOs centered around 10113 kHz
11:00am-noon 20 meter QSOs centered around 14045 kHz
Sunday, August 18
6:00am-7:00am QSOs on or near 3545 kHz
7:00am-7:30am QSOs on 5348 kHz (Ch 2)
Elk Grove Florin Install-O-Rama Event
The Elk Grove Florin ARC would like you to know that they are having their 3rd Annual Install-O-Rama  event.  The event will be held Saturday August 12th at the Sacramento County Sheriff's Department Florin Station Parking lot . Located at 7000 65th Street in Florin. The event begins at 7PM Pacific Time.
Come, show off your home, mobile, SOTA, QRP, or other installation.  Easels and Display boards for photos will also be available. For more information please Contact: vicepresident@w6egf.org
We hope to see you all there!
New ARRL Code Proficiency Certificate
Evaluate your Morse code ability through the ARRL Code Proficiency program. The ARRL has reinvigorated the w1AW code Proficiency Certificate Program. Several things have changed beginning with their new sponsor, Vibroplex. A legend in Morse telegraphy and maker of Morse Keys.  The Vibroplex logo will appear on the newly designed certificates and in the award recipient page that will appear every month in QST magazine. Each month QST will publish the most recent recipients of the W1AW Code Proficiency Certificate, Beginning with all of the 2019 recipients.  As a bonus, the ARRL is sending all the 2109 CPC holders a new certificate at no cost to replace their older style award.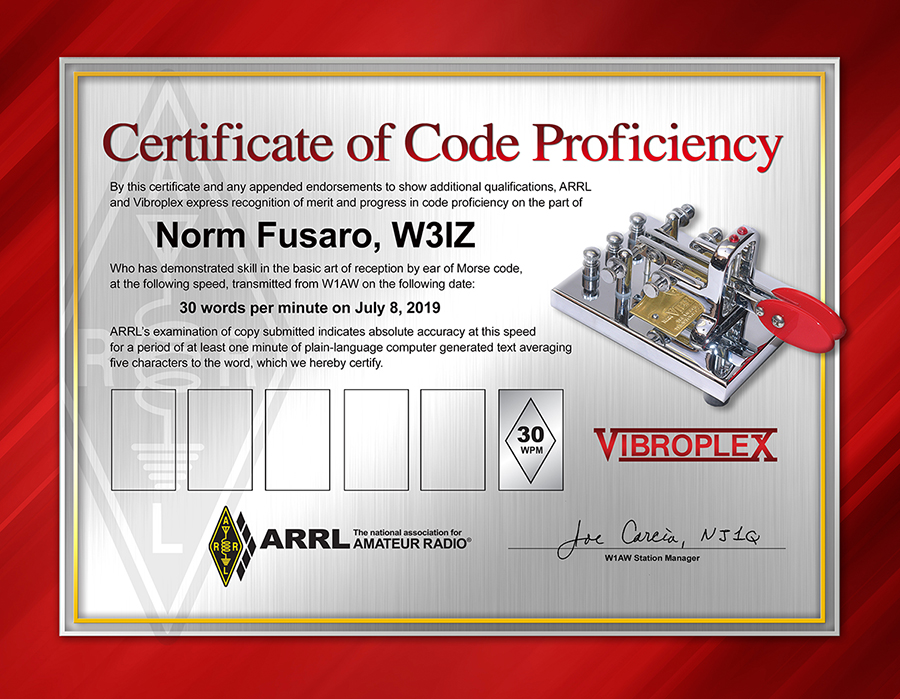 The award is available to anyone who copies one solid minute of code during the qualifying runs.  Complete details can be found on the web at: www.arrl.org/code-proficiency-certificate.
Once you have copied one of W1AW's qualifying runs, submit your one minute solid copy (legible) along with a $10 fee for a certificate, to:
W1AW Qualifying Run
225 Main Street
Newington, CT USA 06111
Your submission will be checked directly against the official W1AW text. If you pass you will get your initial Code Proficiency certificate. From then on, $7.50 endorsement stickers are issued for speeds up to 40 WPM.
The W1AW Code Proficiency Program is open to both hams and non-hams alike!
KP4MD Holiday Style DXpedition
Carol reports into the SFM ARC to let us know that she was on the beach in Puerto Rico relaxing and preparing for her CW "Low Power" entry in the July 13-14 IARU HF World Championship contest.  Carol was using her  portable "station in a suitcase" consisting of an Elecraft KX3 with the PX3 panadapter and KXPA100 amplifier, a Powerwerx 30 amp switching power supply, a netbook PC for logging and a Buddistick vertical antenna on the balcony rail.
With Band conditions as bad as they have been Carol did her homework during the days leading up to the contest weekend by updating and practicing with the N3FJP IARU contest log and planning operating times and frequencies with online propagation tools and by checking hourly propagation patterns with WSPR and with on the air contacts.
The final results were a new record for carol with 363 contacts, 
1105 QSO Points, 106 multipliers and a new personal high claimed score of 117,130 over her previous record of 90,336!  Carol mentions that her newly acquired PX3 panadapter duly impressed her during her "hunt and pounce" operating.  The low efficiency of the nine-foot Buddistick whip antenna on 80 and 40 meters always presents a challenge, but persistence
d
uring the best propagation times yielded Carol 37 multipliers on 40m and even 8 multipliers with her homebrew loading coil on 80m.  Carol's most impressive catches were ZM1A in New Zealand on 20m at 11:25 pm, VK4CT in Australia on 40m at 06:37 am, and NH2DX in Guam on 20m at 7:01 am all at Puerto Rican local AST times.
Congratulations to Carol for her success in these events!
The Club Needs Your Help With Presentations
As those many of you who attend our regular in-person meetings held each first Thursday of the month know, the club has some type of presenter/ presentation each month. Months where there is an inordinate amount of club business to discuss presentations are not made available. At the beginning of each year the club is asked to suggest ideas that they would like to see presented or discussed at the in-person meeting. Last year the club enjoyed presentations such as:
WSPR Program and operations

RigExpert Antenna Analyzer overview

Antenna and Grounding Safety

SMD Soldering and Hot air rework station use

How to read the solar report and solar indices

DSP Noise Reduction on an SDR Radio

Horizontal Antenna Design

Vertical Antenna Design

VEC / VE What is needed and How to become involved
Phased Verticals Construction and Installation.

KX2/KX3 operations

Magloop antenna design

Field Day prep

Bogus Story recap and award modifications

RigExpert AA-55 Zoom features and operations.
2019 will bring us a whole new list of educational and entertaining presentations.