World Wide South America WWSA CW Contest 2021
This Contest is called 'World Wide South America' (WWSA) because of we would like to mean a competition between South America and the rest of the world. Its name and acronym are in English with the aim of world projection.  Only CABRILLO logs are accepted. Most of contest software can generate them. It is a text format with a standard header and a list of QSO.
I – Dates
Second weekend of June of every year.
From Saturday 15.00 UTC until Sunday 15.00 UTC. 24 hours period.
II – Goal
To communicate with the greatest quantity of ham radio stations around the
world, in as many CQ zones and countries as possible, using A1A mode (CW,
Radiotelegraphy).
III – Bands
Contest will be held in 80, 40, 20, 15 and 10m bands.
You should observe CW segments according your national laws and license
Visit the WWSA event page here: WWSA edicion 2021 (contest.com.ar)
Mike,N6MQL of the W6SFM talks Bug Roundup with the NARC of Great Ellingham, Norfolk UK

An ABC News video on RD at KPH Bolenis, CA.
New ARRL Code Proficiency Certificate
Evaluate your Morse code ability through the ARRL Code Proficiency program. The ARRL has reinvigorated the w1AW code Proficiency Certificate Program. Several things have changed beginning with their new sponsor, Vibroplex. A legend in Morse telegraphy and maker of Morse Keys.  The Vibroplex logo will appear on the newly designed certificates and in the award recipient page that will appear every month in QST magazine. Each month QST will publish the most recent recipients of the W1AW Code Proficiency Certificate, Beginning with all of the 2019 recipients.  As a bonus, the ARRL is sending all the 2109 CPC holders a new certificate at no cost to replace their older style award.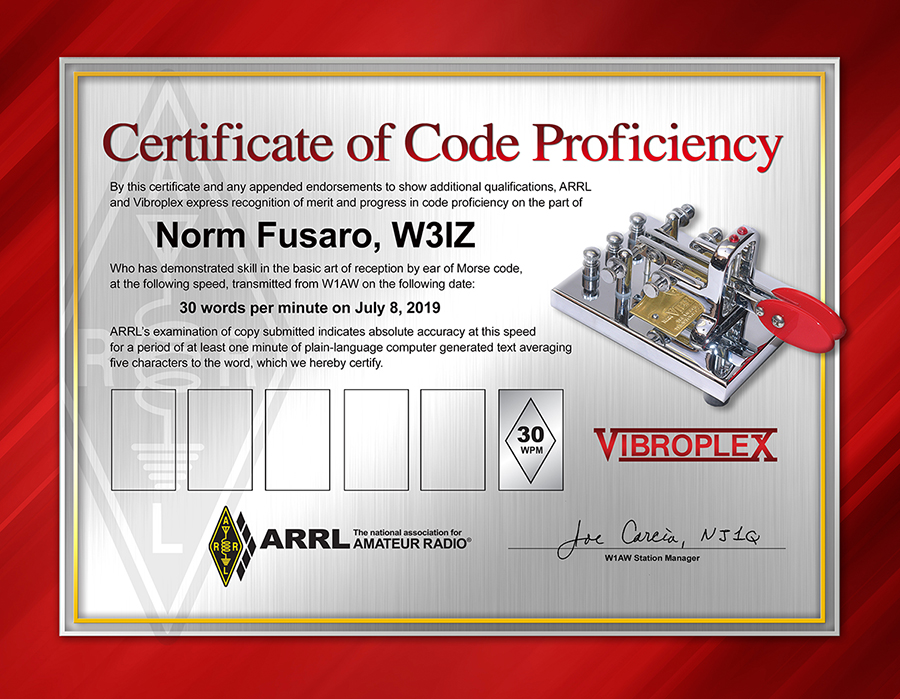 The award is available to anyone who copies one solid minute of code during the qualifying runs.  Complete details can be found on the web at: www.arrl.org/code-proficiency-certificate.
Once you have copied one of W1AW's qualifying runs, submit your one minute solid copy (legible) along with a $10 fee for a certificate, to:
W1AW Qualifying Run
225 Main Street
Newington, CT USA 06111
Your submission will be checked directly against the official W1AW text. If you pass you will get your initial Code Proficiency certificate. From then on, $7.50 endorsement stickers are issued for speeds up to 40 WPM.
The W1AW Code Proficiency Program is open to both hams and non-hams alike!
The Club Needs Your Help With Presentations
As those many of you who attend our regular in-person meetings held each first Thursday of the month know, the club has some type of presenter/ presentation each month. Months where there is an inordinate amount of club business to discuss presentations are not made available. At the beginning of each year the club is asked to suggest ideas that they would like to see presented or discussed at the in-person meeting. Last year the club enjoyed presentations such as:
WSPR Program and operations

RigExpert Antenna Analyzer overview

Antenna and Grounding Safety

SMD Soldering and Hot air rework station use

How to read the solar report and solar indices

DSP Noise Reduction on an SDR Radio

Horizontal Antenna Design

Vertical Antenna Design

VEC / VE What is needed and How to become involved
Phased Verticals Construction and Installation.

KX2/KX3 operations

Magloop antenna design

Field Day prep

Bogus Story recap and award modifications

RigExpert AA-55 Zoom features and operations.
2019 will bring us a whole new list of educational and entertaining presentations.