W3BQC to host a Samuel Morse Day Celebration on June 10th.
If you work W3BQC on June 10th, W3BQC will send you the above unique certificate.

In 1871, a group of Western Union employees began working on a fitting tribute to the man who made their careers possible, selecting June 10 as a semi-official "Samuel Morse Day." The daylong celebration included a parade, a cruise around New York Harbor and the unveiling and dedication of a statue of Morse in New York's Central Park, a ceremony that drew 10,000 onlookers. Congratulatory messages poured in from around the world—by telegraph, naturally. At 80 years old, Morse himself was unable to attend many of the daytime events, but he did show up for the grand finale, a reception at the NY Academy of Music held that night. While speeches heralding his accomplishments continued for more than an hour, a secret project got underway. A series of telegraph instruments, hidden from view of the guests, slowly became the hub of a communications network that stretched across the country—with every city and town with a Morse set-up connecting in remotely. When everything was in place, it was announced that Mr. Morse himself would now say goodbye to the American people. A Western Union operator slowly typed out Morse's final message, slightly longer than his first: "Greeting and thanks to the Telegraph fraternity throughout the world. Glory to God in the Highest, on Earth Peace, Goodwill to men." Morse then took his own turn at the desk, finishing off the message by signing his name, S.F.B. Morse. Morse died 10 months later.

In Memory of Paul McIntyre KC5JAX
Paul McIntyre, KC5JAX, president of the River City ARCS, became a Silent Key at the age of 57 on February 28, 2020. He was one of four victims of a knife attack by a client at the Wellness and Recovery Center in Carmichael where Paul was interning in his training to become a social worker.  Details for a late March memorial service are forthcoming.
Paul was a long time mentor and volunteer, passionate to help others learn and enjoy amateur radio. He served years as a club officer, on the Board of Directors and as our net coordinator. He and his wife Barbara and son Hunter regularly participated in our picnics, Field Days and other club activities.
"He's a wonderful brave blind man who had no defense against what happened here," said his wife Barbara McIntyre. Barbara said Paul interned at the wellness and recovery center two days a week. But his life was cut short Friday. "He was murdered on our son's 17th birthday, so now, my son is going to have to remember his father's brutal death on every birthday that he has for the rest of his life." McIntyre's family has set up a GoFundMe page to help with funeral costs. "He was the most beautiful man I ever met and I waited and waited for him. And when I found him, I knew I had something good," said Barbara.  Link to Fox40 news story.  Photos of Paul.
An ABC News video on RD at KPH Bolenis, CA.
New ARRL Code Proficiency Certificate
Evaluate your Morse code ability through the ARRL Code Proficiency program. The ARRL has reinvigorated the w1AW code Proficiency Certificate Program. Several things have changed beginning with their new sponsor, Vibroplex. A legend in Morse telegraphy and maker of Morse Keys.  The Vibroplex logo will appear on the newly designed certificates and in the award recipient page that will appear every month in QST magazine. Each month QST will publish the most recent recipients of the W1AW Code Proficiency Certificate, Beginning with all of the 2019 recipients.  As a bonus, the ARRL is sending all the 2109 CPC holders a new certificate at no cost to replace their older style award.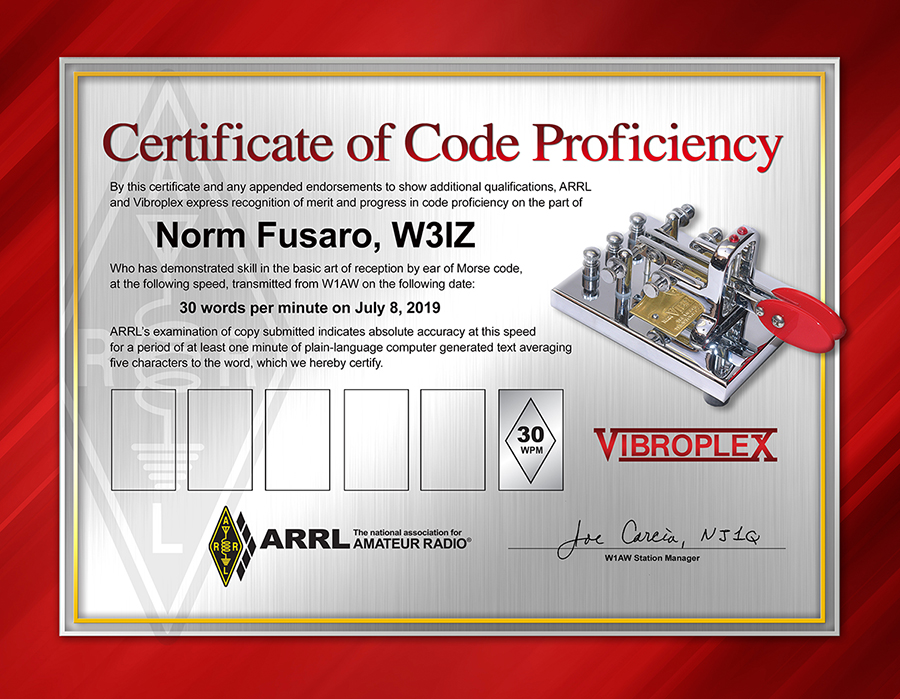 The award is available to anyone who copies one solid minute of code during the qualifying runs.  Complete details can be found on the web at: www.arrl.org/code-proficiency-certificate.
Once you have copied one of W1AW's qualifying runs, submit your one minute solid copy (legible) along with a $10 fee for a certificate, to:
W1AW Qualifying Run
225 Main Street
Newington, CT USA 06111
Your submission will be checked directly against the official W1AW text. If you pass you will get your initial Code Proficiency certificate. From then on, $7.50 endorsement stickers are issued for speeds up to 40 WPM.
The W1AW Code Proficiency Program is open to both hams and non-hams alike!
The Club Needs Your Help With Presentations
As those many of you who attend our regular in-person meetings held each first Thursday of the month know, the club has some type of presenter/ presentation each month. Months where there is an inordinate amount of club business to discuss presentations are not made available. At the beginning of each year the club is asked to suggest ideas that they would like to see presented or discussed at the in-person meeting. Last year the club enjoyed presentations such as:
WSPR Program and operations

RigExpert Antenna Analyzer overview

Antenna and Grounding Safety

SMD Soldering and Hot air rework station use

How to read the solar report and solar indices

DSP Noise Reduction on an SDR Radio

Horizontal Antenna Design

Vertical Antenna Design

VEC / VE What is needed and How to become involved
Phased Verticals Construction and Installation.

KX2/KX3 operations

Magloop antenna design

Field Day prep

Bogus Story recap and award modifications

RigExpert AA-55 Zoom features and operations.
2019 will bring us a whole new list of educational and entertaining presentations.